Office complex includes Principal and Vice Principal Office, Reception Counter.It also has separate room for Risograph and 03 Xerox machines. Sufficient seating arrangement for clerical staff and Account section .Separate record room is maintained in office premises. There are well furnished offices for ground duty officers and Police Inspectors in office complex with sufficient space for the staff deployed for their assistance. Office complex having facility of gen-set backup and water cooler. Landscaping lawns are also maintained with lotus fountain in front of Principal's Office.
Control Room Cum Reception Counter
Institute has a control room which functions round the clock  Principal's Office.
Parade Ground / Sports Ground
Institute have main parade ground of 1.68 hector in addition to that, there is another ground of 2 hectors. Main parade ground is having beautiful background of fort, opposite to saluting base and also having two viewers galleries' adjacent to saluting base. Parade ground is having PA system and generator back-up as well.
Inner Side
Outer Side
Saluting Base Of The Main Parade Ground 
Which is a high point of this Institute as it witnesses all the trainees passing out as Police Constables with much pride in front of their trainers, Superiors & also their proud parents & relatives  . Institute has  maintained landscaping lawns on the both sides of saluting base and back side of it, is beautified with innovative plantation
Hostels are like a home and fellows are like a family members for the trainees during their training period .Which remains a sweet memory of their journey of life.
Rajgad hostel has 70 rooms and with  accommodate  around  420 trainees  and Raigad hostel has 42 rooms & accommodate  around 240 trainees .These Institute  have sufficient accomodation for authorised number of trainees in the form of these two hostels & is having facilities like Solar water heater system, spacious rooms and hygienic toilets and bathrooms, Each room is equipped with 4 single beds every trainee is provided with cupboard, table, chair and bed. Trainees hostel is having facilities of recreation hall, R.O. plant for pure water and  a resourceful library also . Newspaper stands are provided in the lobby of each hostel.every room is  supplied with dustbins and garbage cleaning tools .
Institute have well equipped computer lab with 30 PCs and well versed instructors to sharpen the skills of trainees in Computer Science. It is proving helpful for CCTNS, Cyber Law etc. Trainees are given introductory lectures of computer technology with the help of well equipped computer lab.
Institute is having 15 class rooms with capacity of 40 trainees each. These class rooms are well furnished with permanent overhead projectors with screens and laptops with unlimited internet access through Wi-Fi. Every class room is equipped with white board and podium. All class rooms are well ventilated with curtain facility so that required darkness can be created for viewing of screens during daylight. All class rooms are in separate complex so that academic environment is created automatically.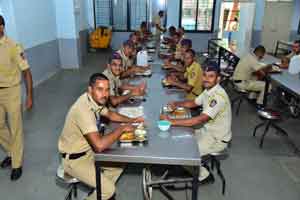 Institute is having well maintained mess, capacity of 450 recruits with dining hall of 4,500 sq. ft. Wash basins are attached to dining hall. Mess has separate cooking area .Separate area is allocated for dressing and cutting vegetables.Food grains and other material are kept in separate storeroom.Trainees' mess is having separate R.O. plant for clean and cool drinking water.Automation is done in some operations of cooking viz. grinding, idli maker, dough maker, also for cleaning operations. High pressure cleaning machine is used every day. Two deep fridges are used for keeping perishable items like vegetables, milk, eggs etc. In case of breakdown in power supply, mess is having generator set back up. Institute has installed permanent Music System and T.V. set in dining area.In the lobby of Mess, newspaper stands are kept for use of trainees who are visiting mess
24 hours secured quarter guard of different types of weapons for the use of weapon training for the trainees.
Institute have well maintained auditorium viz. Sanvad Multipurpose Hall. It has sound system with good aucostics. It is used for activities like Guest lecture ,Medical camp etc & also used for  family welfare centre for social activities of the staff.
Air Conditioner Conference Hall
With the capacity of 120 people, is well maintained in indoor faculty building i.e. Bhima Gurukul with facilities of overhead projector and permanent sound system.
Training institute is having sufficiently manned health care centre. Sufficient stock of regular medicines is kept available in health centre itself for any medical emergency of the trainees.
The  Institute has a Spacious & pleasant rest house for accommodation of Guests  , guest lecturer, visitors of Trainees as well as Officers also.
Institute has maintained very resourceful library with 11,800 odd books of various academic and non-academic subjects. Fiction section of Library is having large range of books like novels, autobiographies, souvenir etc. to keep our trainees updated about current affairs and implant reading habit in them.
The institute has created traffic Education Park to educate trainees about the  traffic rules and regulations.
Similarly institute has developed a crime scene laboratory for better understanding of crime scenes and collection of evidences from the scene of offence.
To develop habit of exercise among trainees & trainers  institute installed open gymnasium from C.S.R. funds raised from a nearby company named Diana biotech ltd. This year Institute purchased a high-tech BMI machine. It is proving very useful for monitoring  various parameters of trainees viz muscle mass, fat mass, bone mass etc of each trainee. This novel idea has certainly proved very effective in monitoring physical fitness of every trainee.
With this AMBIS system trainees are trained in automated fingerprint and t's various types. In outdoor training other than usual regimental training, trainees are trained in Yoga, Martial Arts like Judo, Karate etc.
Institute has beautified one strategically located square in a campus and created memorial of Indian Constitution and embarked Preamble of Indian Constitution on it, unarguably the best poem written in the history of Independent India. These days this square is popularly known as Sanvidhan Chowk, famous destination for trainees and others.
To cater the watering needs of  plantation institute have created a huge two stage water tank of  54000 cubic meters with the capacity of 1.5 Cr. Litres, As Institute is located in drought prone region of Maharashtra, therefore to fill up the tank we use techniques of  rain  water harvesting.
Institute  utilized every square inch of land vacant for the plantation of trees like drumstick, Banyan, Neem, Tamarind, coconut and many other local varieties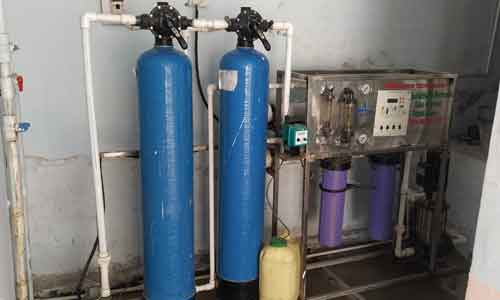 The institute is situated in hepatitis prone area. Therefore last year we installed R.O. plant of pure water for the trainees. This pure drinking water is distributed free of cost.
For staff is available in campus with tea and breakfast facility.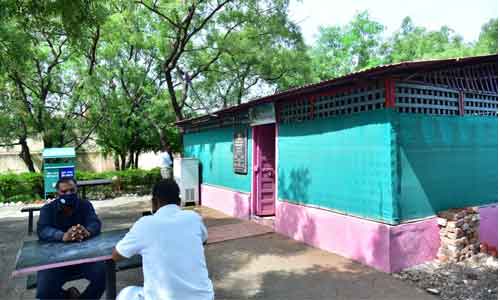 Rest house of Police Training Centre.
Institute has well maintained rest house for guardian of trainees and other delegates visiting training institute. All booking related correspondence can be done by email tab – prin.ptsnanveej@mahapolice.gov.in email ID. Even other queries too can be addressed telephonically by manager of rest house Mr. Navale on cell no. 7499579256. Rest house remains exclusively booked 7 days prior to passing out parade of every batch for guest of training institute.
Other than this accommodation in private hotels at Daund, Patas & Kashti  can be arrived by visitors at moderate rates. All these three places are equidistance from institute i.e. 10 Kms.